Paul's story explains why you shouldn't hire a freelance web developer or freelance web designer, instead, you should hire a website design agency.
His lights went out suddenly and In a desperate attempt to turn on the back-up generator Paul broke the plug.
For a generator that has not been used in the past 8months and not being serviced, I wonder what magic they expected to happen. Clair in a frantic state tried to contact the electricity company but all to no avail. Not sure which is worst; not having listened to their boss to ensure all office equipment are in perfect condition or failure to meet up with the deadline for submission of the contract agreement for the first major business deal of the year.
No store is accessible as the restriction order placed by the Government left a ghost of most businesses and busy offices. In a state of absolute confusion, they both stare at each other, not sure what to do or how to explain the cost implication of what their negligence would cost the company.
"I should just come up with a story to save myself," Claire thought "if Paul had agreed to go check the electricity company while I stay back to sort things in the office, we wouldn't be in this mess" in deep thoughts on how best to resolve the issue "I can just make an excuse of how badly affected my health was," Paul thought to himself. When, everyone sort to save themselves, who will take the blame? This is the danger of a 'single story'
Hiring a freelance web developer or freelance web designer is as good as signing up for a single story. Which you will agree doesn't end well most of the time. We're here to take you through some of the nitty-gritty and behind the scene action of what you should know before you invest your most priced resources into the web developer for your business website.
While there are skilled, lovely, presentable, and witty website designers, we still hear terrible stories from clients who fall prey to these laudable ones, entrusting us to pick the pieces of where they left off.
We're here to guide you; take note of why you should be extremely cautious when choosing who to develop, build, and manage your website.
Freelance Web Developer/Freelance Web Designer vs Web Developer Agency/Web Design Agency: The Verdict
Still not sure why you Should Never choose a freelance web developer/freelance web designer over a reputable website design agency then you may want to pick a glass of beer or a soda (if you're under 18) and follow closely.
1. Time is Premium and a Freelance web developer is time-consuming: You Have to Check for Competence.
The idea of second-guessing on the capability of a freelance web developer/freelance web designer is thought draining and time-consuming. Do you have the needed knowledge to ascertain the competent level of the web designer? How much do you know about what is required to develop a standard and functional website? For example, do you know which platform can host your website? You need to also ask yourself; do I need a backend, full-stack, or frontend developer.
If you are not familiar with these basic questions then a freelancer isn't a smart choice. You should go with a web development agency or website design agency that is grounded in website development and design. A team of certified builders that ask you the right questions, one you can rely on with a proven outcome.
#2) Freelance Web Developer or Designer don't have Supervisory Duty Calls
If you've had any cause to take the role of a babysitter then this should ring a bell. Working with a freelance web developer or freelance web designer may not be the best of experiences. Giving the job out to be done is never enough, you need to be deliberate to follow up daily just to see that your work come alive.
Among other things, freelance website developers have a negative stereotype. For instance, they are not always reachable; it's like they have a 48hour curfew time (at best) before they respond. They don't apologize for unfinished work or missed deadlines. It can be disastrous to handle such baggage when you operate or have serious business to tend to
This is when you fall back on a web development agency, like Jordandigitals, where you can relax conveniently while they handle the tedious hassle to bring back the good faith and trust in developers.
#3) Freelance Web Developer/Designer Don't Have Assurance/Backup-You Ain't Safe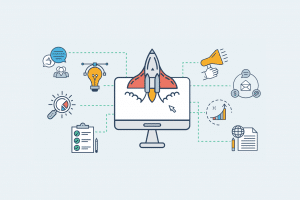 You run a high risk when you put all your eggs in one basket. This is what happens when you work with a freelance web designer rather than a web design agency. What happens when your work goes down? What can you do when your freelance web developer chooses to quit your job for higher pay. The odds are often not in your favor. Your best bet is to work with a web development agency that has other and team members that way you are never left out to dry. Book a demo to get started.
#4) Money Your Business Can't Bear the Cost of a Freelance Web Developer
Working with a freelance web developer often requires a pay-as-you-go option. While this is good, it sometimes has its effect on your business. You don't want to settle for scrap because you were offered service at a cheaper rate. Yes! The most expensive website may not worth it but, you can search around and get both affordable and quality delivery.
#5) Other Priorities-Yours is a Side Gig
For many freelance web developers, web development is a side gig. In plain English, you're not on their top List. While some find a way to squeeze you into their nine-to-five job with little time management skills and all you get is long-suffering of delayed projects. The anticipated time frame for any website dev project runs for three months from start to finish. If a freelance web developer tells you it takes six-twelve months, my candid advice FLEE!
#6) Freelance Web Developers/Designers Have No Contract Agreement-No Validation
Validation is necessary, securing your business is vital. A freelance web developer won't be this committed most times it's up to you to set your terms, make plans and work with a budget and protect your website development from harm.
You can save yourself the stress of having to draft your agreement and protect your business by working with a web development agency that will have a contract agreement prepared and signed for effective delivery of website design and development. This point corroborates what is written here.
#7) Break In-Transmission
There are certain things you can't take for granted. Freelance web designers can work from anywhere in the world which is good. However, there is an assurance that you can get from knowing the exact in-office hours of your web developer. So it is important you work within a friendly time-zone as this helps smooth communication. Working with a website design agency comes with more reliability. With a team of competent designers who are always ready to provide web solutions, you don't feel bottlenecked or pressured.
#8) Don't Ever Rush
The time put into anything determines the value you get out of it.
You must take your time to assess your candidate. Decide on the actual website you need and its functions; which requires adequate planning for a successful outcome. At Jordandigitals we always start at the basics and progress smoothly for effective delivery.
The bottom line is it takes a lot to know and get the right guy for the job. But not to worry. Whether you choose to hire a freelance web designer or get Jordandigitals to handle your job, you must choose carefully. Read just a little further to help you make the best choice.
5 Signs to Know a Freelance web developer isn't Fit
If you have read carefully, you would understand the importance of this section. Handling a business is no child's play and trust me you don't need some wanna-be to spoil or hinder your years/months of hard work of planning and strategizing.
Tip #1: No Questions Asked
Like seriously! How then can he/she get the job done? A professional website designer or developer would have loads and more questions. Not just one-off questions but repeatedly even as the creation of the website progresses.
Tip #2: Non-Responsive
I'm sorry if you are currently being ignored. But it's a sign you need to let go of that web dev. kindly ask yourself how long can you put up with no replies or response days, weeks, months? I say you take a rain-check.
Tip#3: Freelance Web Designers Know Nothing about Content, designs, and SEO
This can be a deal-breaker, not just for your website alone, but it will affect your sales and marketing plans. You can't afford a website that all beauty with no sales to show. You'll only end up losing money and more money.
Tip#4: They work with no Scope or Budget
This is the part where you are seen as the money bag. A freelance web designer who commences work with no scope or budget is a no! no!! This only shows your web designer lacks proper planning and management skills. Before the start of any project, a scope is needed to ascertain the deliverables and possible risks; if this is not in check, then you need to set up some form of regulatory scheme to protect yourself.
Tip#5: The "I Know it All" kind of Attitude.
Undoubtedly, a person can be skilled in different areas. But mastery is what it takes to get the best in a specific field (web designing). The 'I can do all things by myself is not the best choice'. However, we understand it can be tiring searching for one you can completely depend on. Hence, we advise starting aright with a website design agency like ours.
We commence every project with great interest in your business, our team makes it a duty to ask the right questions, set realistic scopes and expectations, and most importantly work within your budget. If this is what you need? Then make that click!