Save huge amount of money on customer support and turn conversations into action by leveraging the power of our next generation AI chatbot technology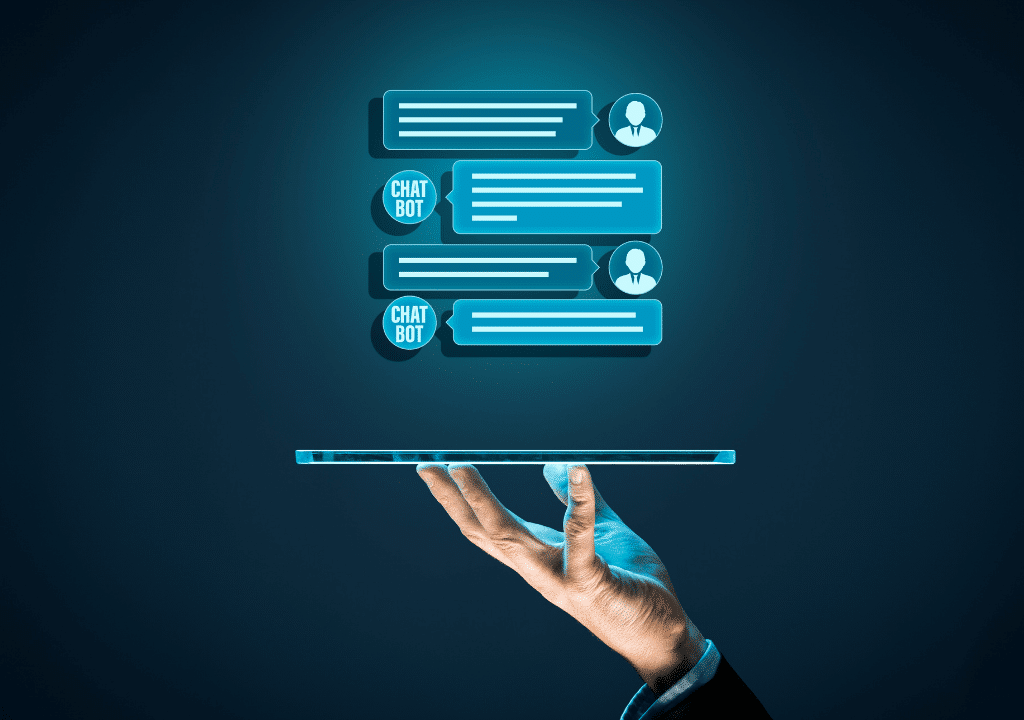 Why is chatbot necessary for your business and why choose Jordan Digitals?
A chatbot is a complex computer program or artificial intelligence (AI) software that is capable of processing conversations with humans through websites, messaging apps, or other smartphone apps, making it seem as if users were interacting with a real person. Chatbots can range from basic one-line apps that respond to single messages, to a lead generator that collect emails, to digital assistant that has proactive conversations with visitors of your website based on the pre programmed flow of messages, offers and demos thereby causing the user to action. 
Also, beyond just your website, our unique chatbot with it's variety of advanced marketing options can get you a tremendous head start and also give you an edge over your competitors by tapping into the 2 billion+ active users of WhatsApp™ & Facebook™. We'll set you up with our done-for-you templates to get more leads, followers, and sales in an automated process.
Not having a chatbot on your website can be very devastating, which causes you to lose a lot of potential revenue. If you're not already making use of chatbots to generate leads, improve customer experience and increase your sales, you're seriously missing out on so much. It's like leaving money on the table! However, do not worry, it's not too late for you because we are here to help you out and build a custom & advanced chatbot that fits your business perfectly.
Key features and advantages of a chatbot
Why Us?
See why our services at Jordan Digitals are second to none!
We're Very Fast & Reliable
We're 10 times more reliable than freelancers and other cheap services out there. Our delivery and support system are also very fast.
We make sure that you and your brand stand out from the crowd and also ahead of your competitors. 
Our services are more Affordable
Compared to our competitors that offer the same quality of work, our low prices give you a better ROI.
Fantastic service. Can't recommend this service enough! They went above and beyond for us to make sure we were happy. The bot works just fine for our website and is now generating tons of extra leads for us. Also, our sales and revenue has been on the rise since we installed the chatbot on our website.
*Want to get our chatbot for free? Book a demo with us and we'll guide you through all our services. If you spend up to a certain amount included in your proposal monthly, we'll happily give you our Diamond tier chatbot for free!
**Want a custom offer for your business? Please contact us here through the ticket system to better serve you. Also, do not forget to fill out the questionnaire once you complete your order. Thanks
Silver
AI powered intelligent chatbot

Chat Automation done for you

Fully customizable to your needs

Advanced options including exit intent popups etc.

Up to 7,000 conversations

Up to 2 unique chatbots per website

Intelligent Human handover
Gold
AI powered intelligent chatbot

Chat Automation done for you

Fully customizable to your needs

Advanced options including exit intent popups etc.

Up to 2,500 conversations per month

Up to 4 unique chatbots per website

Intelligent Human handover
Diamond
AI powered intelligent chatbot

Chat Automation done for you

Fully customizable to your needs

Advanced options including exit intent popups etc.

Up to 5,000 conversations per month

Up to 6 unique chatbots per website

Intelligent Human handover
What are your chatbot uses?
Through automated chat, our Chatbot can improve the conversion rate of your website.
It can generate a lot more leads than a contact or registration form.
It can develop email lists more quickly than an optin form.
It can greatly boost your revenue by increasing interaction.
It's also suitable for customer service, quizzes, and surveys.
What website platforms do your chatbot service support?
Our chatbot AI software can be integrated into any CMS and website building platform. To mention a few: WordPress, Joomla, Squarespace Shopify, WiX, BigCommerce, Volusion, Magento, Concrete 5, Weebly, etc.
Can this chatbot be tailored specifically to my business needs?
Yes, our chatbot service can be tailored specifically to any niche you're in. This is possible due to the evolution, hard work and research we've put in through the years to help all sought of businesses.
Can I customize the design?
Yes! our chatbot service  is fully customizable and can easily match your website's design. We would set it up according to your preferred color pallets, positions, icons, sizing, and even the placement of the chatbot widget.
Does your chatbot AI affect loading speed?
Absolutely not! our advanced chatbot AI software loads very fast due to the cutting edge technology that was used to develop it.
What counts as a conversation?
A conversation occurs when a visitor interacts at least once with your chatbot.
Simply opening (or automatically loading) your chatbot does not count as a conversation.
Also, if your visitor opens your chatbot and then interacts with it multiple times, it only counts as one conversation.
What happens if I run out of conversations?
Your chatbot becomes inactive until you upgrade your tier or purchase more conversations (monthly or one-time). You can also contact us via the support system for a more custom offer suitable to your needs. 
*Please note that the reason we have to do this is to track how much resourses a website uses. If your website has lots of traffic, thereby using more resources,  then you'll have to pay more or use the bigger plans. However if you have a small website with minimal traffic, then the smaller plans may be more suitable for you.)
Would I need to install a software on my computer?
No! our chatbot is hosted on a reliable 3rd we've partnered with. And with 99.9% uptime, you've got absolutely nothing to worry about because the chatbot would always be available 24/7 to help out. Once you complete your order, we'll start customizing the chatbot to you specification and once that's done, we'll install the script on your website.
Related Services You May Need
Design/Redesign a modern, professional and responsive website & mobile app.
Turn your inaccessible website into WCAG and ADA compliant websites within hours, and be assured 100% safety from any accessibility related lawsuit.